Understanding and Applying Safety Data Sheets and
the GHS(Globally Harmonized System) of labelling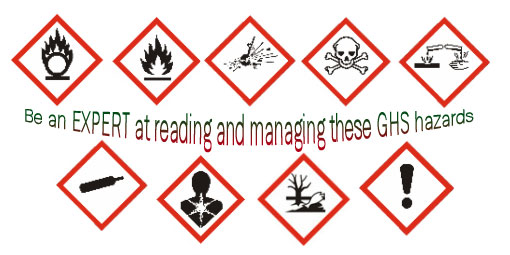 Online Registration Form
Target Audience
Shippers, Packers and Logistics workers (Managers and Supervisors) of Hazmat(chemical)
Course Outline
Objective:
Interpret the various sections of the SDS on properties, first aid measures/ correct handling, storage, disposal and use of PPE and identifying the Proper Shipping Names and UN Numbers.
Identify Hazard class properties (Class 1 to 9)
Apply Air/Sea Cargo hazard and handling labels
Know the purpose and mission of GHS
How to apply GHS labeling on Inner and outer of substances
Follow the WHS Act and implementation
Knows the Governing agency for various Hazmat and able to
Respond to Emergency situation.


Course Content:
History and Introduction on Safety Data Sheet
Interpreting the various sections of the Safety Data Sheet

Establishing and verifying proper shipping names
Hazard and Handling labels for Air and Sea Transport
Segregation of different dangerous goods.
Package type used (inner/outer/cushioning/absorbent material
Emergency Response in case of Hazmat incidents
Purpose of GHS application / implementation date
Labeling requirement for GHS
WHS Act and implementation with Risk Assessment at work site
Emergency Response and use of PPE
Governing agency for HAZMAT
Review
Practical exercise on two Safety Data Sheet
Written Test
Evaluation
Completion Certificate:
A Certificate of Completion will be issued to successful candidates .
Target group:
Workers in the Warehouse/Logistics, Chemical users and suppliers
Minimum Requirement:
Primary 6 Education or ESS qualification
Conducted by :
Instructor with over 20 years experience from IATA /IMDG accredited school


All rights are reserved ©